The DDHI Community of Practice
The success and sustainability of the DDHI will come from the development of a community of practice. We are committed to fostering a community of users of the DDHI's tools and methods that include oral historians, archivists, researchers, students, community groups, and more.
To achieve our goal of creating a community of practice, we are currently developing a project site that will host our tools, training materials, and a forum for community engagement. In its first iteration, the project site will be a place for future users to learn more about the DDHI and begin to connect with the project. By 2021, the project site will allow those interested to encode oral history transcripts and access our DDHI data visualization toolkit. We hope this will be a space where oral historians, digital humanists, and other stake holders can coalesce to meet the needs of a growing community of DDHI users. To received updates about the DDHI and its project milestones, please sign up for our email newsletter (coming soon!) or follow us on Twitter.
Student Research Associate Program
The Dartmouth Digital History Initiative provides opportunities for Dartmouth undergraduate students to join our team of student research associates. We encourage first- and second-year students ('23s and '24s) of any prospective major to apply. No prior experience with oral history, digital humanities, or advanced computing is required—just a willingness to learn and to contribute to the project's goals. Students interested in oral history, coding, or data analysis will have an opportunity to pursue their interests and learn new skills associated with critical thinking and computational methods.
New research associates will join an inclusive and collegial team of fellow students that fosters a flexible and collaborative work environment. We provide all necessary training, and our on-boarding process is easy and accessible.
Our research associates commit to work up to 10 hours per week during the terms in which they are participating in the project. All DDHI RAs receive a stipend of $1000.00 per term.  Once accepted into the DDHI, eligible RAs can apply to participate in the DDHI under the auspices of one of UGAR's student fellowship programs (Sophomore and Junior Research Scholars, or Presidential Scholars).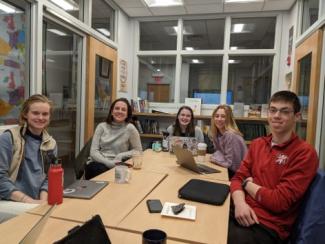 HOW TO APPLY TO BECOME A DDHI RESEARCH ASSOCIATE:
Eligibility: All current Dartmouth freshman and sophomores in good standing are eligible to apply to work as a research associate for the Dartmouth Digital History Initiative. The DDHI is open to students in all major programs of study.
Time commitment: Successful applicants must commit to weekly one-hour meetings as well as up to nine hours of additional work per week. During 2020-2021, meetings will be conducted remotely at a mutually convenient time for all participants.
Application process: To apply, please complete the following steps:
(1) Complete the online application form (link below). The form includes the following prompts:
Why are you interested in participating in the DDHI? (up to 250 words)

Do you have experience with oral history? If so, describe your experience.

While no prior experience with coding or databases is required, please briefly describe (1) any experience you do have in this area; or (2) why you are interested in gaining such experience

?

Please explain how participation in the DDHI might contribute to your Dartmouth academic plans and/or your professional development goals. (up to 250 words)
(2) Email a copy of your Dartmouth transcript as an attachment to ddhi@dartmouth.edu. (An unofficial copy of your transcript is acceptable.) The subject line of your email should read 'Transcript for YOURNAME.'
(3) After we receive and review your application, the DDHI leadership team will contact you to schedule a short Zoom interview.
CLICK HERE TO FILL OUT AN APPLICATION
Questions? Email Prof. Edward Miller (Edward.Miller@dartmouth.edu) and Dr. Bryan Winston (Bryan.Winston@dartmouth.edu)